One of the most popular trends across the UK today is the popup hotel. This isn't your grandpa's camping experience, to paraphrase a popular auto advertisement. This type of camping is a comfortable as a bed and breakfast, and as luxurious as a 5 star hotel. You receive the same services when you stay in your spacious tent, from room service to mints on your pillow every evening.
Glamping
The popularity of The popup hotel has coined a new phrase in travelers' lexicons: "glamping". That's because there is nothing muddy, hot, and bug-ridden with this type of camping. It is glamorous camping, or "glamping".
With the popup hotel, not only do you sleep in a real bed every night, you have a private bathroom, climate control, and catering! The company provides all linens and pillows, as well as toiletries just as you would find in a fine hotel.
Climate control alone is enough to make the popup hotel popular with people who would normally eschew camping because of extremes in temperature. This way, you can hike until it gets hot, and retire to your tent to relax in moderate temperatures.
Gorgeous Locations for Popup Hotels
The popup hotel follows some of the most popular festivals, so you can easily find lodging in these great facilities. But not only can you have luxury accommodations on the grounds of the festival, you can also enjoy a solitary stay on some of the most gorgeous locations in the UK. Your own, unique campsite will be set up for your arrival, waiting for you to begin your holiday. This has become a popular way for newlyweds to celebrate their wedding trip, and for veteran spouses to celebrate landmark anniversaries.
Popup Hotel Amenities
These romantic settings are reminiscent of centuries old Yurts, but provide the spaciousness of safari tents. Complete with throw rugs and electricity, a make-up parlour and, in some cases, a restaurant and bar, the popup adventure proves to be private as well as luxurious.
Besides comfortable beds, you also have a living area in your popup hotel, with comfortable chairs and TV, if you want! It's just like a hotel, but more glamorous.
Plenty of Space in Popup Hotels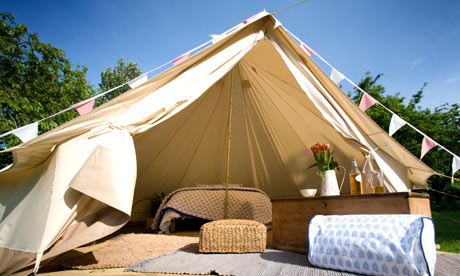 You can even get suite accommodations with your popup hotel. Do you want to bring your kids with you on your holiday? That is no problem – they can enjoy the glamping experience, too, and still give you and your spouse the privacy you desire.
Since there is electricity and gas available for the tent, you can cook for yourself, or take advantage of the catering provided. Or, if you wish, you can cook outside and enjoy being part of the outdoors, just as you would if you were camping out.
One With Nature
With the popup hotel, you are one with nature. These zip-up tents even have a front porch, or stoop, complete with lounging chairs so that you can enjoy the world around you.